As a SkySlope Admin, you spend most of your workweek managing your agent's files, reviewing documents, and assigning tasks. We're here to provide you with our top insider hacks that even our most seasoned SkySlope veterans don't know about. Hopefully, these tips help you optimize your workflow and make you love SkySlope even more.
1. Sort by Oldest Pending Document
This tip comes from our Customer Success team! To ensure the quickest turnaround time for your office's files, try sorting by Oldest Pending Document under Docs to Review. This will take all of the property files with pending Checklist documents, and prioritize the files with the oldest documents waiting to be reviewed. Reviewing documents on time means closing escrow on time!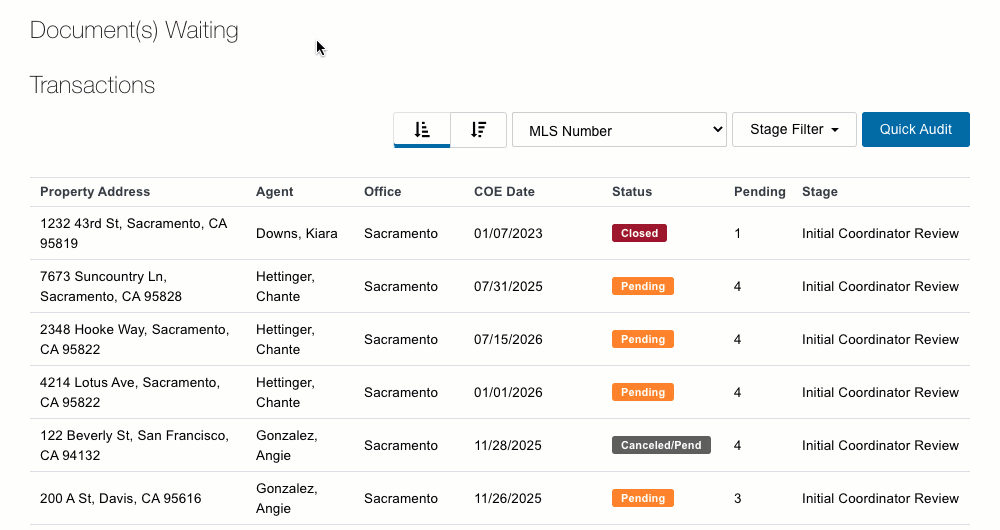 2. Drag & Drop Uploader on the Checklist Tab
Depending on your office's workflow, it may be the Agents or the Admins who are submitting documents on the Checklist. No matter who's submitting the docs, uploading file after file can be time-consuming. Using the Drag & Drop uploader can easily cut the time it takes to submit documents in half. As long as your PDFs are already split (meaning you don't have your Purchase Contract and Disclosures, for example, in one PDF), you can simply drag them from your desktop or your file explorer right onto your Checklist!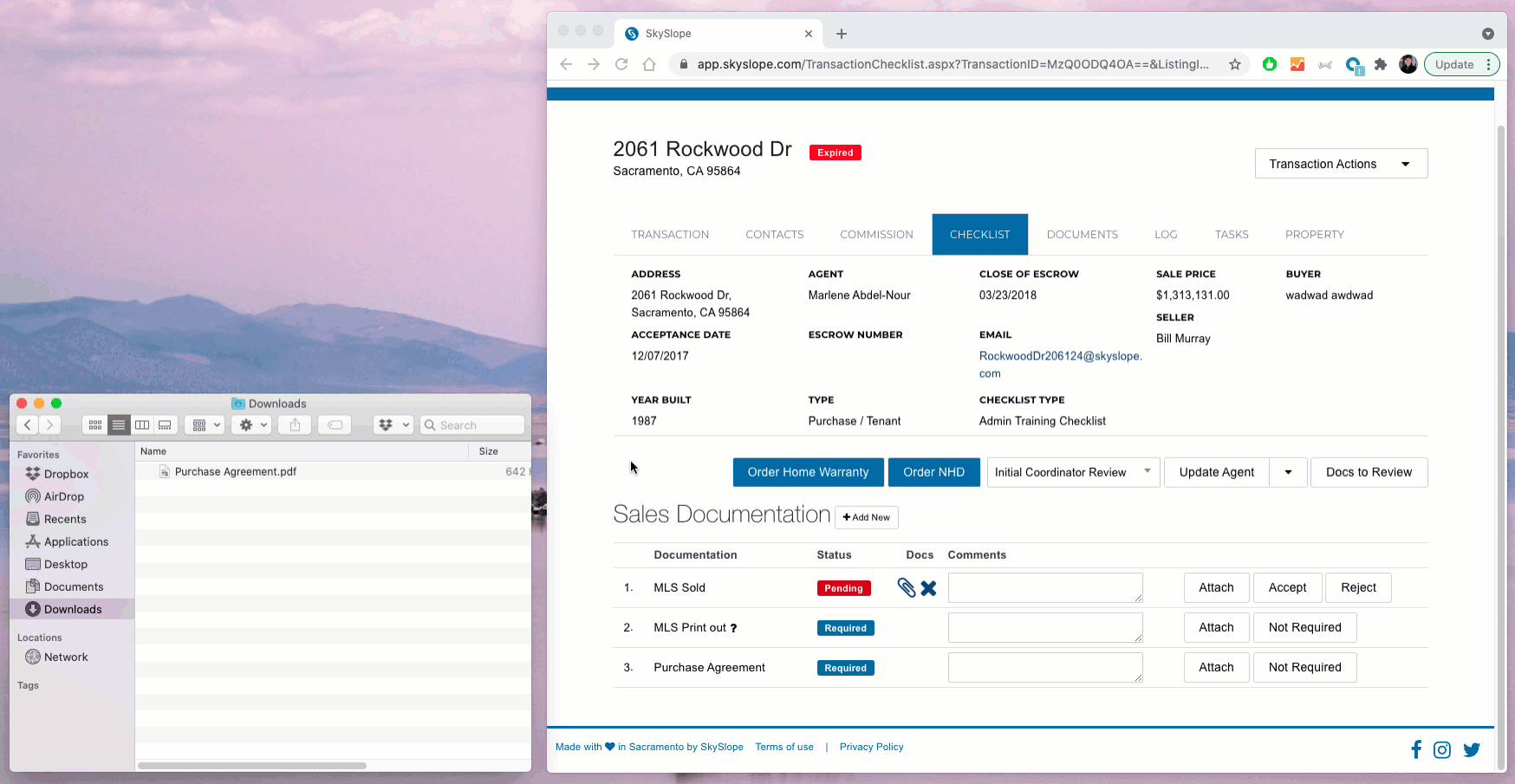 3. Agent Update with Only Required Items
You may already know how easy it is to quickly send your Agent an email showing them the status of their recently reviewed Checklist. But did you know that with just a few more clicks, you can choose to have that email include only the items that are still requiring attention? Clicking Update Agent will immediately send them an email snapshot of the entire Checklist, but when you click the down arrow ( ∨ ) next to "Update Agent", you can select which status documents to include by status.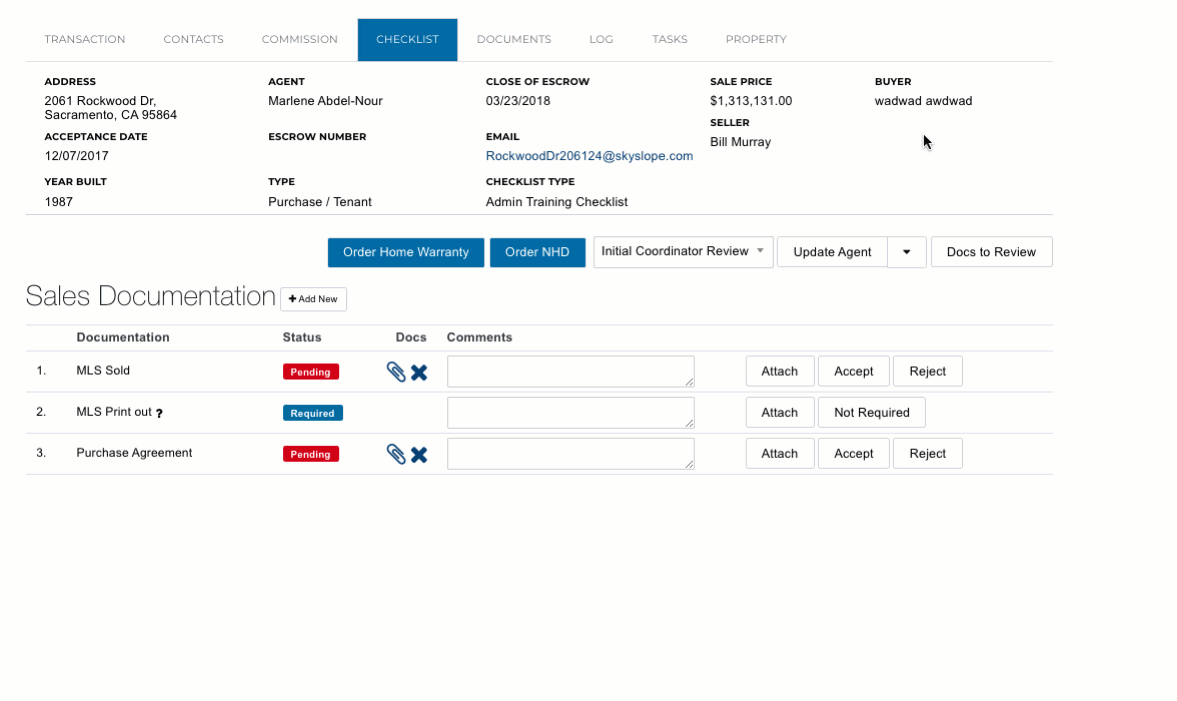 While we're on the subject of the Update Agent tool, another time-saving feature is using Checklist Notes. These are custom email templates that can be created in the Broker's account, and then applied to the email when using the Update Agent tool. After the templates have been created in the Broker account, click Update Agent > Select Template to autofill one of the saved email messages.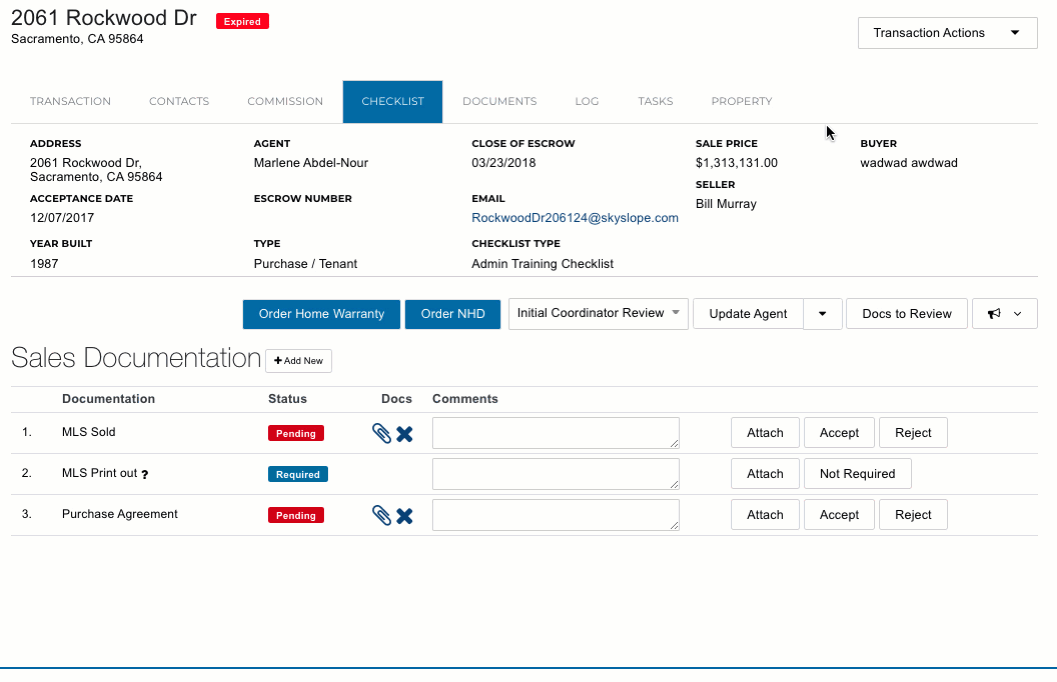 4. Managing and Sorting Files Using Stages
Using file Stages is a must if your office is seeking to audit more efficiently. Think of Stages as filtering by price or brand name when shopping online. Once Stages have been created and applied to your files, you can begin reviewing files based on their Stage. Here are some examples of common file Stages:
- Initial Coordinator Review
- Compliance Broker Review
- Broker Approved - Ready to Pay
As your Admins work through the auditing process, the Stage (or status) of a file can be changed from one to another. For example, after the Broker gives a file the final once-over, they can mark it as "Ready to Pay". Then you can quickly find a list of files that are ready to pay out by viewing files under that Stage.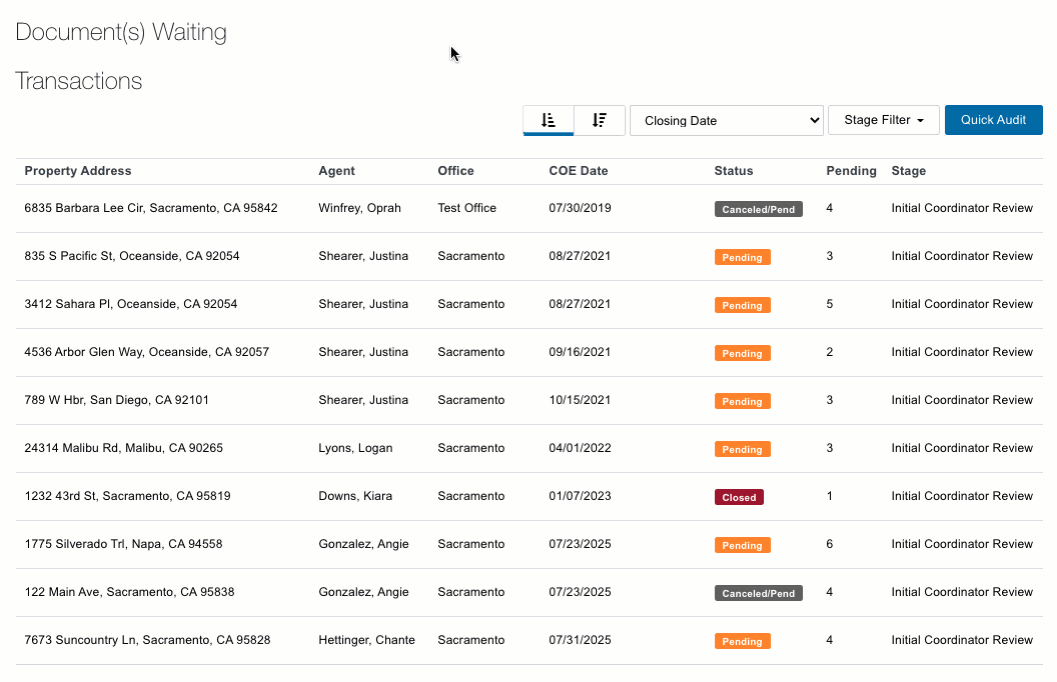 Note: Stages can only be set up within the main Broker account.
Want to learn more about setting up and using Stages? Click here!
5. Download All Documents Using Shared Bundles
In this "paperless" day and age, sharing documents via a weblink is all the rage. Shared Bundles is the easiest way to share documents, allowing you to create a group of documents to share directly from SkySlope. Many of our users know all about Shared Bundles, but what is often overlooked is the ability to download all the documents included in a Bundle in just one click!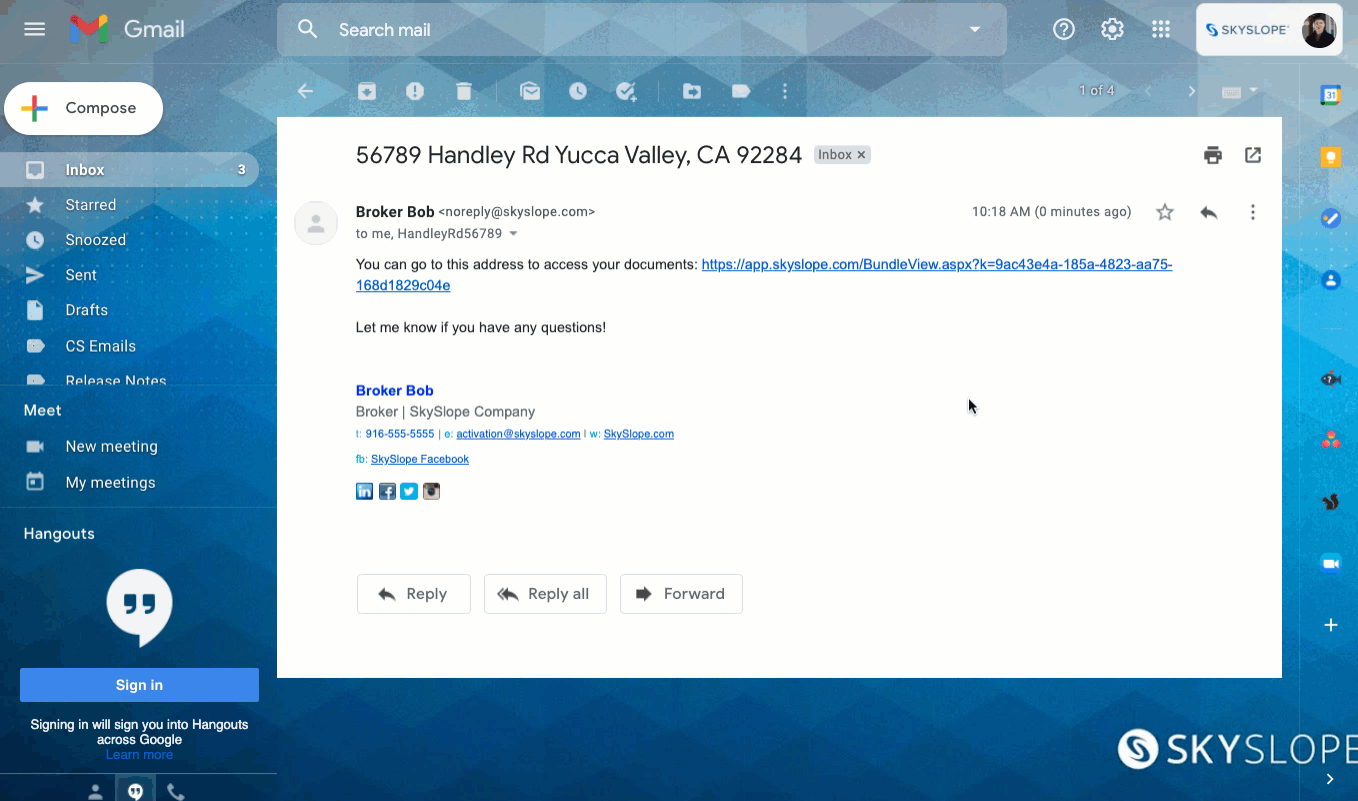 Click here to learn all about using Shared Bundles!
6. Additional Functions in Quick Audit
Quick Audit is our Admin's favorite and most utilized SkySlope feature. Quickly guiding them from pending document to pending document, and then onto the next file, it is - without a doubt - the quickest way to audit files. But did you can do more than just review documents in Quick Audit? Here's a list of other functions you didn't know you can do within Quick Audit:
- Close/Cancel a file
- Leave Checklist comments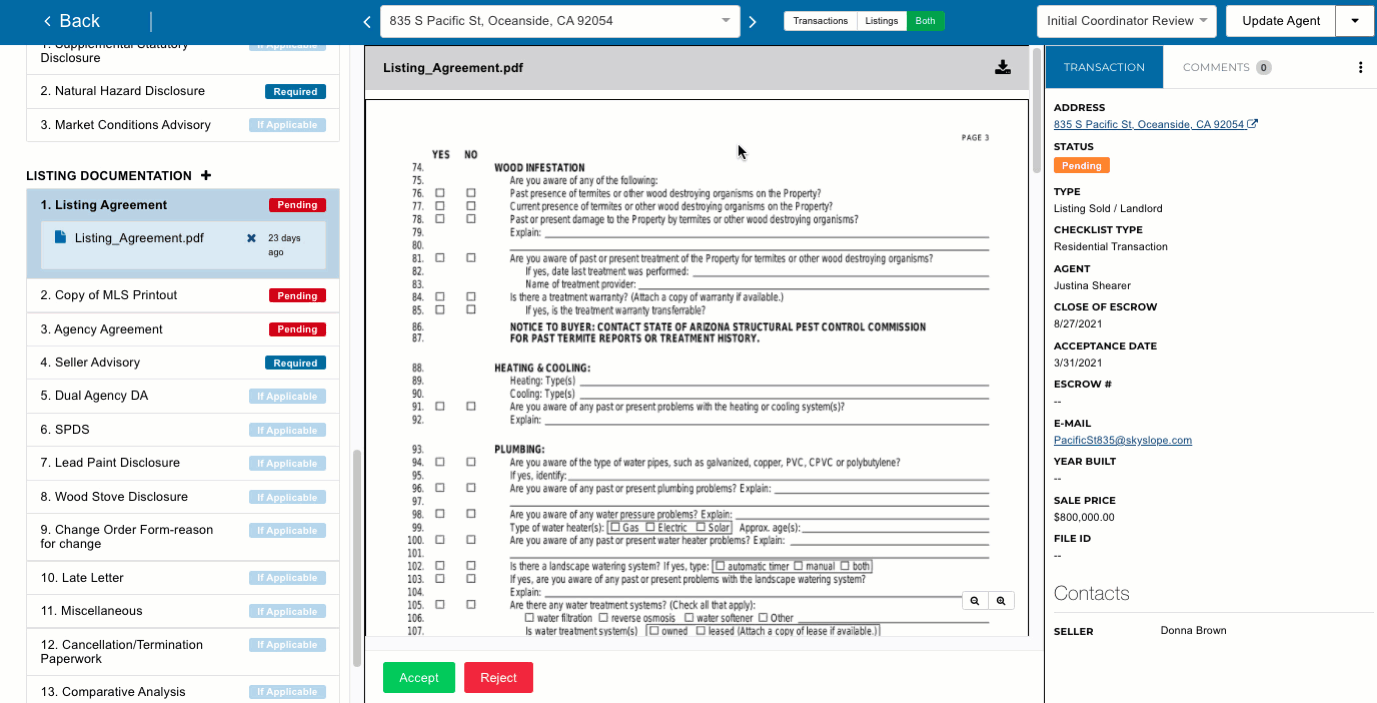 - Change the Stage
- Send an Update Agent email


- Open the property file in a new tab

7. Working Documents Email
You probably know all about the property file email address, that allows you to easily store emails and upload documents by simply forwarding/sending an email to the @skyslope.com address in your property file. But did you know that the Working Documents section of your account has its own @skyslope.com email address too? This email is especially handy because it allows you to email documents into your account so that they can be uploaded, without having to first create a SkySlope property file. This is perfect for buyer's representation agreements and offers, for example, when you have not yet created a property file, but don't want to download/upload the documents to store them in SkySlope.
To find your personal account @skyslope.com address: Log into your account > Click on your name in the upper right corner > Look for the @skyslope.com email address listed in the upper right corner.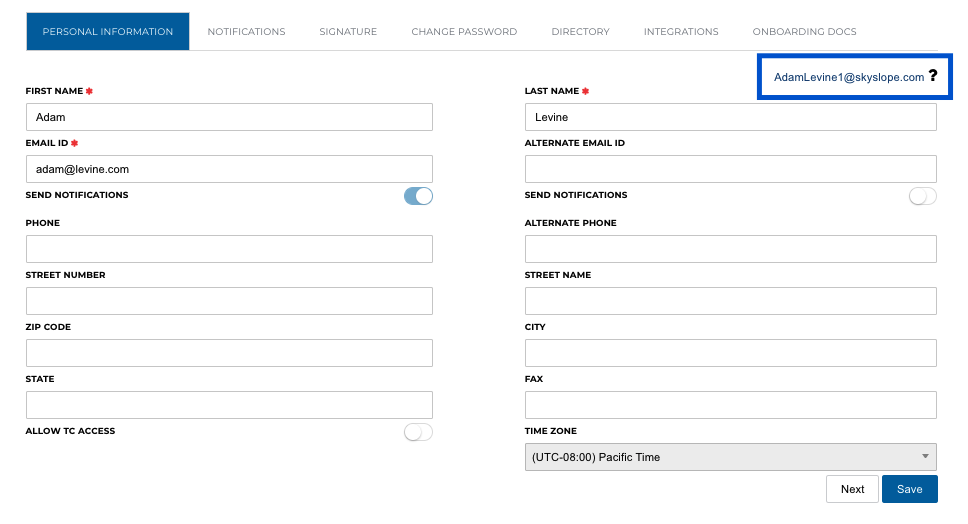 To find the documents emailed to your personal account @skyslope.com address: Log into your account > Click on the Working Documents icon on the SkySlope home page > Navigate to the Personal Docs tab
Note: Unlike the Log tab of a SkySlope property file, the Working Docs email cannot record the contents (email, subject line, recipients, etc) of any emails. If you forward an email to this address that has no attached documents, nothing will be received. If you forward an email to this address that does have attached documents, only the documents will be received. If you send an email from Working Docs, there is no way to view a copy of the sent email unless you add yourself as a CC/BCC.
8. Split & Assign from the Office Inbox
If your office utilizes the Office Inbox, you can take advantage of the ability to Split & Assign documents directly onto a file's Checklist from the Office Inbox. This means you can skip the step of first moving the document from the Office Inbox to the property file, and then using Split & Assign. Assigning docs to the Checklist doesn't get any faster than this!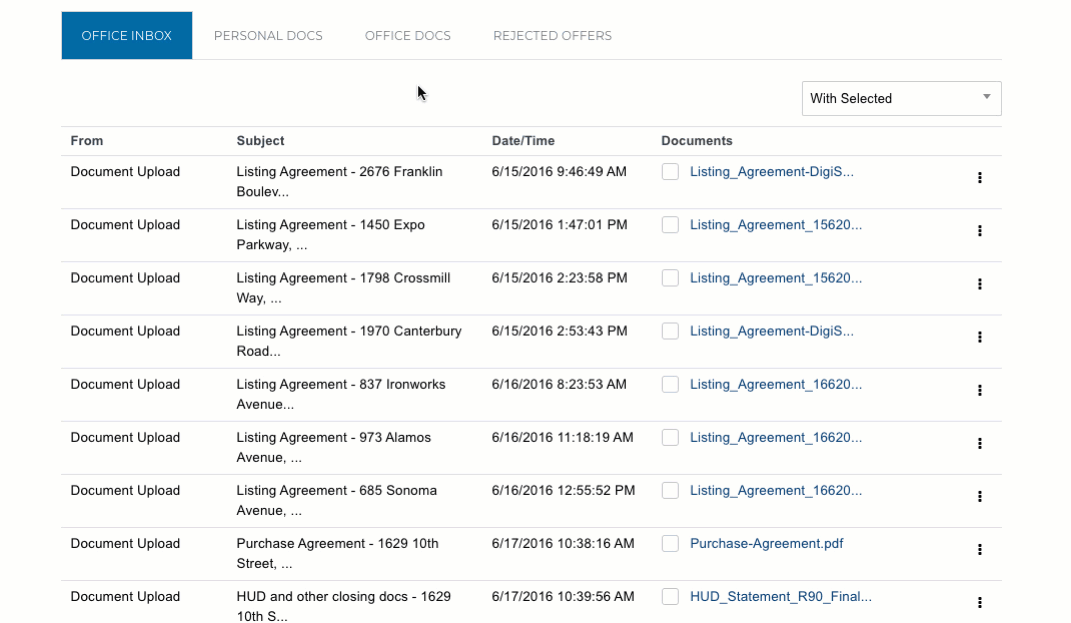 What are you waiting for?! Start using our insider hacks today! If you have any questions, please reach out to our 24/7 Support team - and ask them for their favorite hack while you're at it. Happy SkySloping!