Here at SkySlope, our goal is to make it easier to meet the demands of your job as quickly as possible so you can get back to doing what you love -- spending time with your clients. The new open escrow tool allows you to expedite your sale by automatically sending an email to your title or escrow contact when you're entering your Transaction into SkySlope!
Note: The Open Escrow feature is currently only available in the following states: AK, AR, AZ, CA, CO, HI, ID, IL, IN, KS, KY, ME, MI, MN, MO, MT, NE, NM, NV, OR, PA, TX, UT, WA, WI, & WY.
VISUAL GUIDE
STEP-BY-STEP GUIDE
1. From the SkySlope home page, you will start by creating a Transaction file. You will be guided through entering the required information onto the Transaction, Contacts, and Commission tabs; required information is listed with a red asterisk (*). Click here for more information about creating a Transaction in SkySlope.
2. After you've filled out all of the required information on the Transaction, Contacts, and Commission tabs, you will see two options in the upper right corner:
- Submit
- Submit & Open Escrow
Click the Submit & Open Escrow option.
Clicking the Submit button (rather than the Submit & Open Escrow button) will simply save the changes to the Commission tab and direct you to the Checklist where you can submit your documents.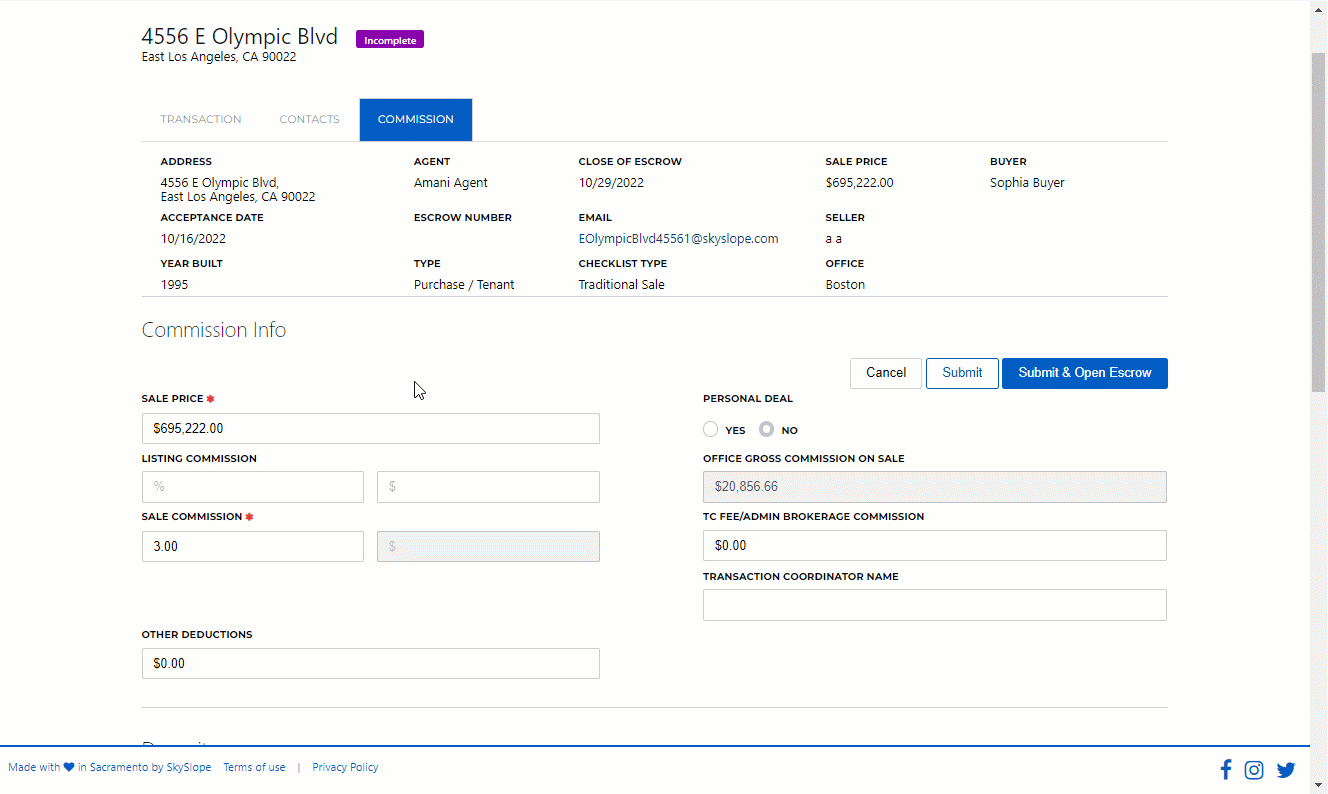 3. Once you've clicked Submit & Open Escrow, the Open Escrow email module will open. In this module, you can:
Add/Edit recipients (such as adding your transaction coordinator or admin as a CC)
Edit the email message
Add any necessary attachments (such as the Purchase Contract)
Once you're satisfied with your email message, click Send.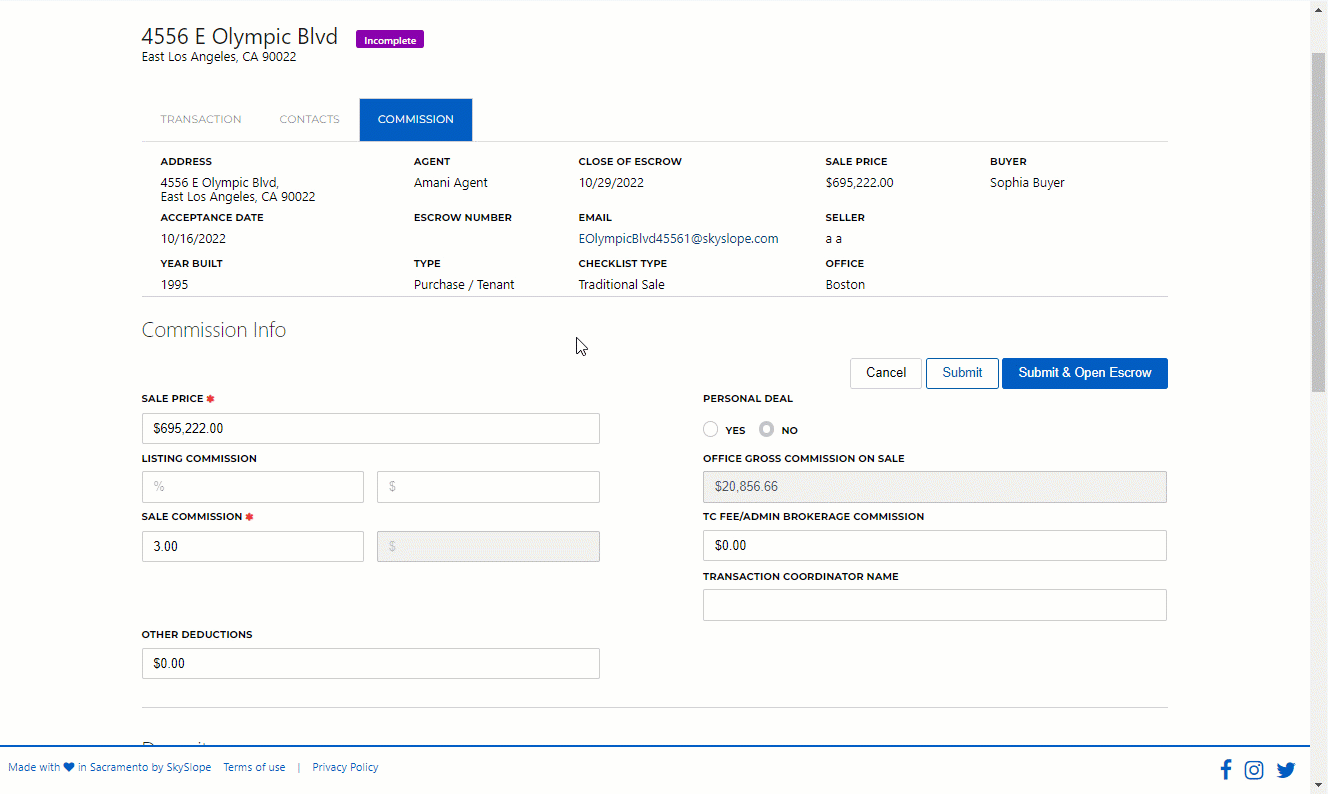 From there, the email will be sent to your Title/Escrow contact, and you will be directed to the Checklist tab where you can submit your documents. Once on the Checklist tab, you will see confirmation that the Open Escrow email has been sent.
If you need to refer back to the email later, you can always go to the Log tab of your Transaction file to find the email. Click on the blue EML OUT link to open the contents of the email.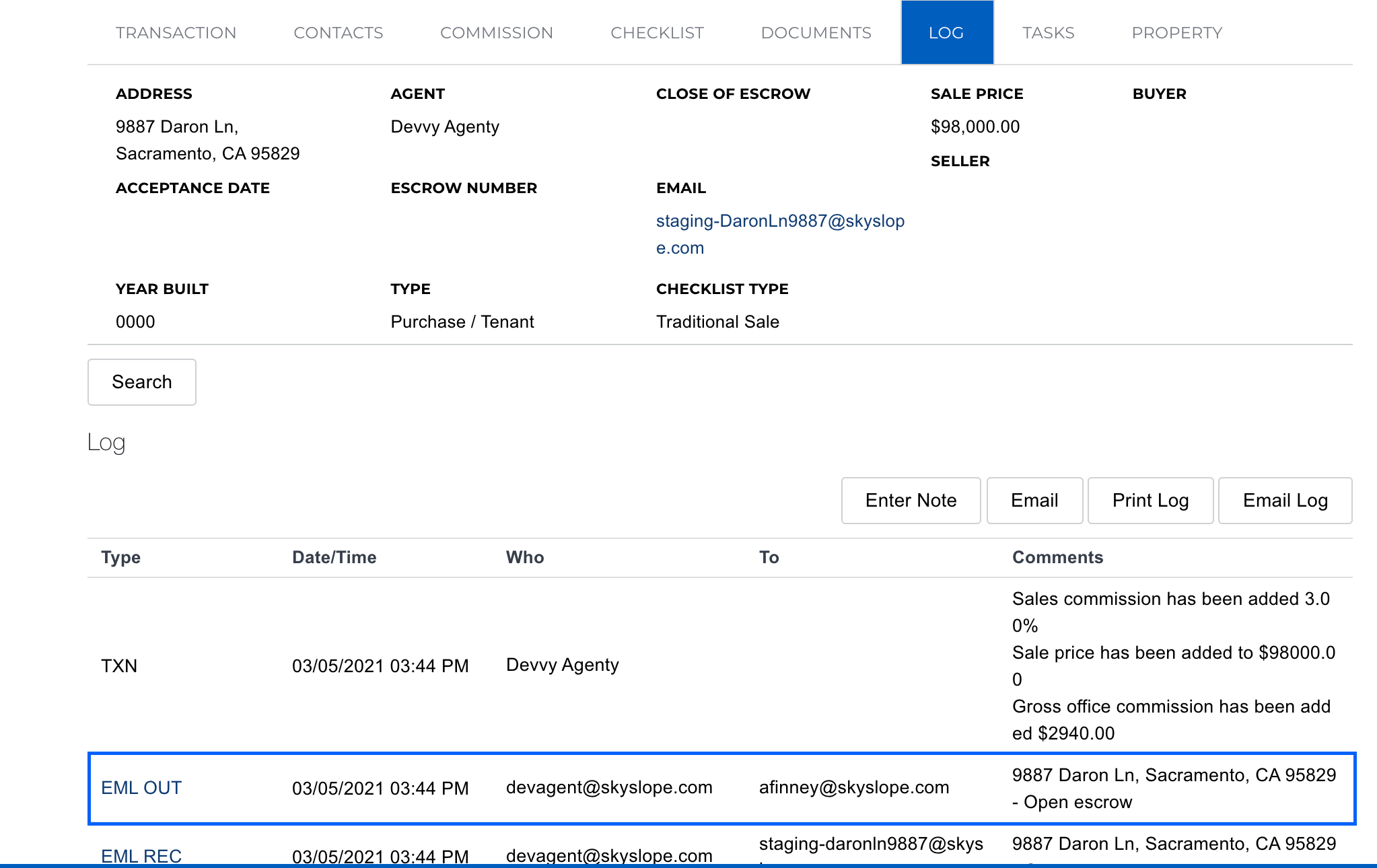 If you have any other questions about how to open escrow when creating a Transaction file in SkySlope, please reach out to our 24/7 Support team!