Hi SkySlopers, 
At SkySlope, we're always looking for ways to create a better experience for you.  One of features we offer that we believe does just that is One-Click NHD Ordering in SkySlope. Check out this video for more details: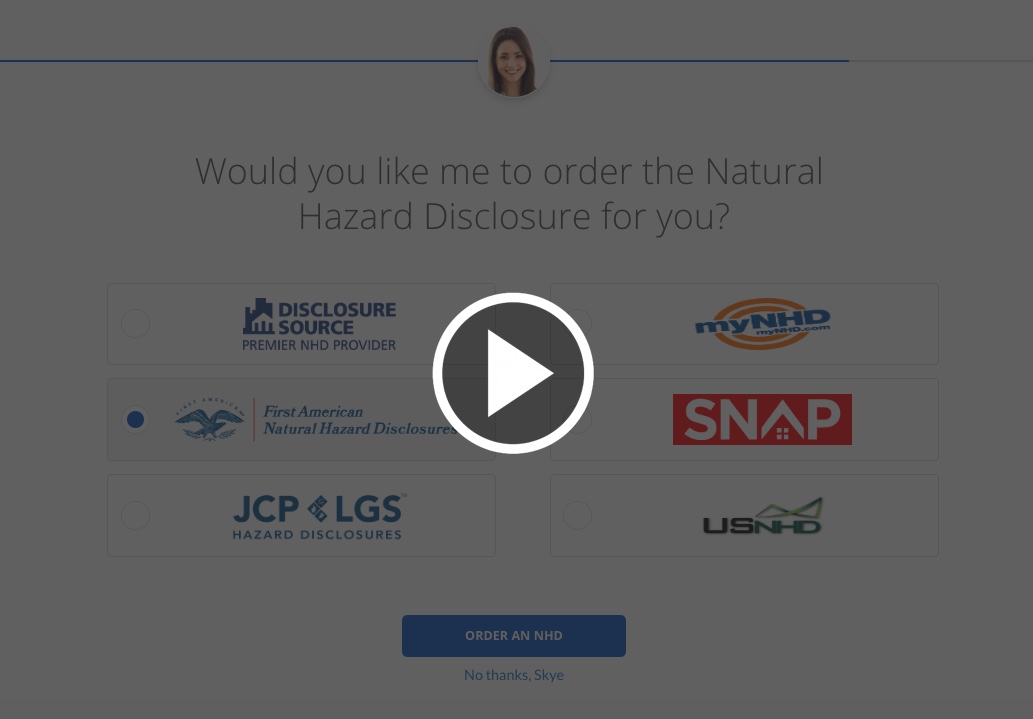 What's an NHD? A Natural Hazard Disclosure Report is a California only disclosure, so if your property is in a different state, feel free to skip this informational. 
We give you a few ways to order an NHD: 
When creating a Listing through Skye 
When managing a Transaction that's been converted from a Listing, aka "Listing Sold"
When managing a double-ended Transaction, aka "Both Listing & Sale" 
Key Benefits: 
No duplicate entry — Relevant data from your SkySlope file is used to process the NHD for you
Don't worry about payment — We make sure that the invoice is sent to the Title or Escrow contact in your SkySlope file
Less work for you — We automatically upload the Home Warranty to the Documents section of your SkySlope file making NHD ordering a truly seamless experience 


A Few Items to Note: 
We order the report that includes the Environmental addition.


Disclosure Source - Premium   
JCPLGS and First American - Industry Standard
MyNHD - Residential   
SnapNHD - Premium   
USNHD - Residential   

Property ID and DisclosureSave were added but subsequently removed. If you'd like them to be re-added, please reach out to them directly and let them know.  
Residential only NHDs - not commercial 
If you don't see the "Order NHD" button on your Listings or Listings Sold files, please reach out and we'll be happy to enable it for you! 
Questions? Please email Shab at shab@skyslope.com.
Thanks and Happy SkySloping! 
The SkySlope Team