When managing Checklists in SkySlope, there are two awesome features that are often overlooked: Flags and Inbox Update. This article will explain the purpose of those two features, and dive into using those features to enhance and streamline your auditing workflows.
Please note: The ability to create and manage Checklists is limited to Auditor and Broker accounts. If you are an Agent, you will not have this ability.
First, let's review how to access the Manage Checklist page. After logging in, click on your name in the upper right corner. From there, click on Admin; this will take you to the Admin section of SkySlope. The first tab of the Admin section in the Manage Checklists tab, so you'll be taken there by default.
Once you're on the Manage Checklists page, you will see a drop-down menu that allows you to select the Office and the Checklist Type (Listing or Transaction) that you're viewing. Select an Office (if enabled for your account), and then select Listing or Transaction to view the Checklists that are in that category.
Now that you've done that, you'll see a list of all the Checklist for that Type and Office. Click on the name of the Checklist (in the furthest left column) to open and view the items on that Checklist.
Once you've opened the Checklist, you will see a list of all of the items on that Checklist. The name of the items is shown in the furthest left column, and there are additional features off to the right. This is where we see the options for Flag and Inbox Update.
Here's what the above process looks like: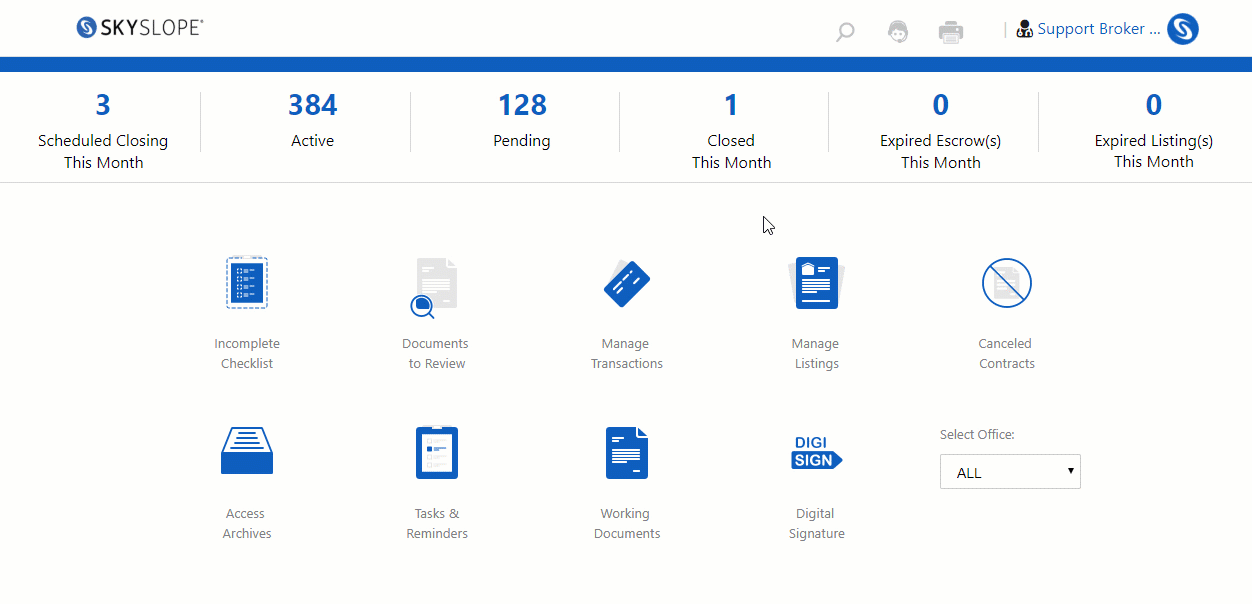 Let's dive in deeper...
What does it mean to Flag a Checklist item?
If you check the box of a Checklist item to Flag it, you are essentially marking the item as important. The purpose of this feature is to remind an agent of the importance of uploading that particular document. When an agent creates a file and selects a Checklist for that item that has Flagged Checklist items, the agent will receive an email daily reminding them to upload that item, and the emails will continue until the item is uploaded.

When should I Flag a Checklist item?
In some states, there are certain documents that must be uploaded in a timely fashion. Whether it's a legal requirement, or just a necessity to get things processed quickly, it's always handy to mark a Checklist item as Flagged. This is a great way to remind agents that certain documents must be uploaded promptly after the file is created. The sooner the agent uploads the document, the sooner it can be reviewed by an auditor, and the transaction can move forward soundly.

Can I change how frequently the Flagged Doc reminder is sent to my agent?
Yes! The frequency of these email reminders can be controlled from within the Notifications section of the broker account. The broker can dictate the number of days after the file is created to have the first email sent, as well as the number of days between each notification sent thereafter. For example: "Email agents to upload Flagged Docs 2 days after the file is created, and keep emailing every 2 days until the docs are uploaded."
To access these settings, log into the Broker account > Click on name in upper right > My Account > Notification > Company-wide Notifications.

What does it mean to mark a Checklist item for Inbox Update?
If you check the box for Inbox Update for a Checklist item, this is essentially a way to take all of a particular type of document and funnel them into one place once they are open. For example, if you turn on Inbox Update for the Purchase Agreement, every time an agent uploads a Purchase Agreement to the Checklist, a copy of the document will be uploaded to the Office Inbox section of Working Docs.

Why should I turn on Inbox Update for a Checklist item?
This feature is simply for the auditor/admin/broker's benefit. Let's say, in your office, you have 150 Listings, and it is essential that the broker knows if any Listings become extended via an Extension of Listing Agreement document. Without Inbox Update, an auditor may have to look at each individual file's Checklist to see if an Extension has been uploaded. BUT, if you turn on Inbox Update for the Extension of Listing Agreement, each time an agent uploads that doc, a copy of the document will be copied to the Office Inbox. Then instead of having to check each file, the auditor can simply open the Office Inbox to see if any new extensions have been uploaded.
In simpler terms...
Flags remind an agent to upload the important docs.
Inbox Update allows auditors to quickly check for important docs have been uploaded.
To select those options for any individual Checklist item, just check the box in either the "Flagged" or "Inbox Update" column:

Hopefully, this helps to shed some light on the Flag and Inbox Features, and you can put them to good use to help streamline your auditing process! If this article leaves you with any unanswered questions, don't hesitate to reach out to our Support team - we are available 24/7 at support.skyslope.com.