One of the primary functions of being an admin or broker is keeping track of all of your agents. If you have a new agent on the team, you'll want to start by setting them up as a new SkySlope user. Keep reading to learn how to add users to your team in the Admin Hub.
VISUAL GUIDE
STEP-BY-STEP GUIDE
1. When logged into SkySlope, click on the SkySlope icon in the upper right corner. From there, select Admin to go into the Admin section. Once in the Admin section, click on the Manage Agents tab.

2. In the Manage Agents section, click on the green button that says Create Agent.

3. The page of their account details will open. To create the agent's account, you will need their first and last name, their email address, and which office they are to be assigned to (if applicable). Fill out that information, and then click on Save in the lower right corner.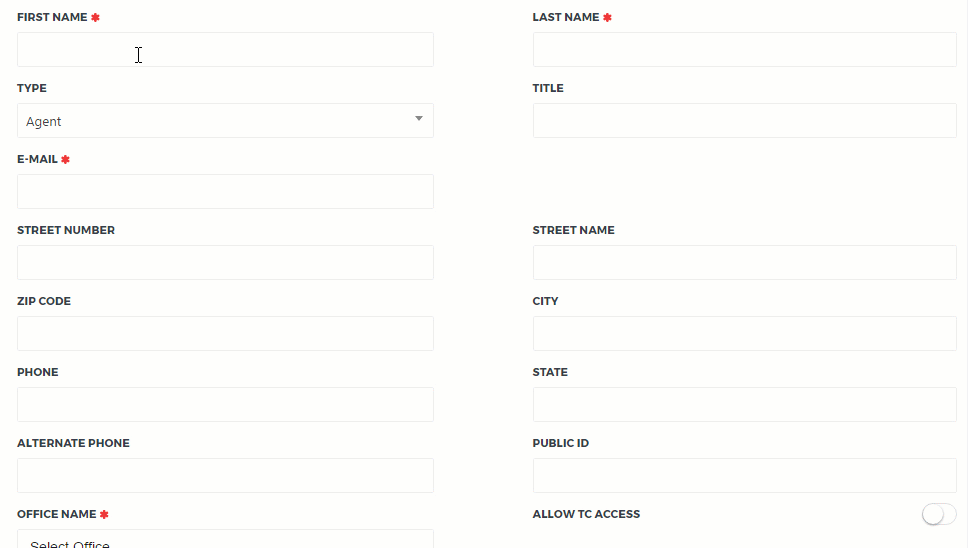 Additional fields available:
Use Digital Signature - Enabling this feature allows the user to have access to DigiSign within their account
Allow TC Access- If TC access is enabled for an agent or admin, this means that any TCs in the office will be able to create files on behalf of that user. The TC and the agent will have access to the files created.
Allow Add Users - When creating an Admin/Auditor account, this option will dictate whether or not the admin has the ability to create new users in their own account.
From there, the agent's account will be created and they will receive an email labeled "Welcome to SkySlope!" That email will inform them of their username, and allow them to set up their password so they can get logged in and get to work!
If you have any other questions about creating new agents in SkySlope, don't hesitate to contact our 24/7 Support Team! We are are available by phone at 800.507.4117, send an email over to support@skyslope.com or start live chat with us at support.skyslope.com! Happy SkySloping!