If you're trying to log into SkySlope and you are seeing this screen, you might need to reset your password. Simply follow the steps below to reset your password and regain access to your account.


1. To reset your password, go to the SkySlope Login Page at app.skyslope.com. Once on the login page, click on the blue link that says "Forgot Password?"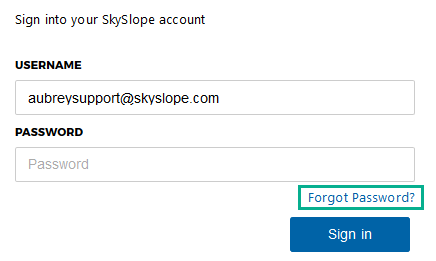 2. Once you click on Forgot Password, you will be redirected to a new page. On this page, you will be prompted to enter your login email for SkySlope. After you've entered your SkySlope email, click on Submit.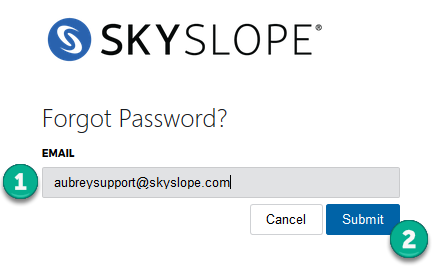 3. Once you've submitted your email address, the page will reload with the message "A Password reset email has been mailed to you!"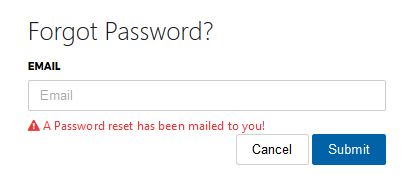 4. Check your Inbox for an email from SkySlope that will allow you to reset your Password. The email will like this. Click on the link that says "Click Here to Reset Your Password"

5. Once you've clicked on that link in your email from SkySlope, you will be redirected to the Password Reset page.
Password requirements:
-8 or more characters
-Contains at least 1 upper-case letter
-Contains at least 1 lower-case letter
-Contain at least 1 number
Enter in your new password TWICE.
Once you've entered your new password twice, and the passwords match & meet the requirements, the green "success" thumbs-up will show.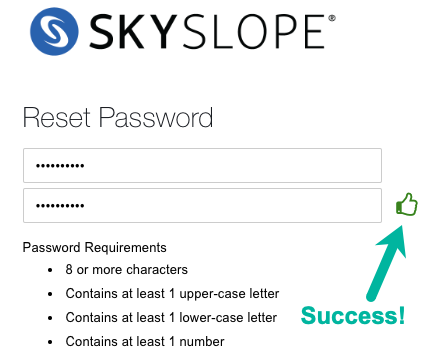 6. Once you've gotten the green "success" thumbs-up, click on the blue Submit button.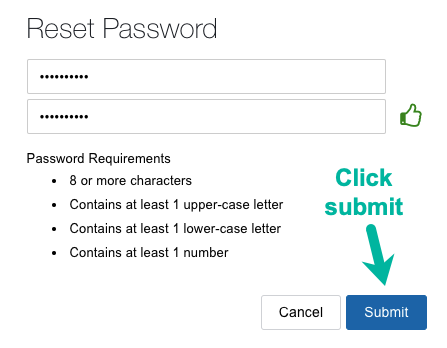 7. After submitting your password, you will return to the SkySlope login screen, and you will be able to log in!
If you've done this and are still having trouble logging in, please contact SkySlope Support. We are available by phone at 800.507.4117, send an email over to support@skyslope.com or start live chat with us at support.skyslope.com! Happy SkySloping!