If your Listing has an accepted offer, and the buyer's docs are ready to be uploaded, the process is a piece of cake! Keep reading to learn how to convert your Listing into a Transaction, and upload the documents to the Transaction Checklist.
VISUAL GUIDE
STEP-BY-STEP GUIDE
1. Open the Listing file by clicking on Manage Listings on the home page. Locate your file and single-click to open. Once the file is open, navigate to the Checklist tab.
2. From the Checklist tab, click on the button on the right that says Accepted Contract. After clicking on Accepted Contract, the file will convert from a Listing to a Transaction and the Transaction tab will generate.
SUPPORT TIP
Is your Accepted Contract button greyed-out? That means there are still some documents that are still marked as Required. Those docs will need to be uploaded, or changed to Not Required by an admin, before the Accepted Contract button will be accessible. If you hover your cursor over the grey Accepted Contract button, you will see this message: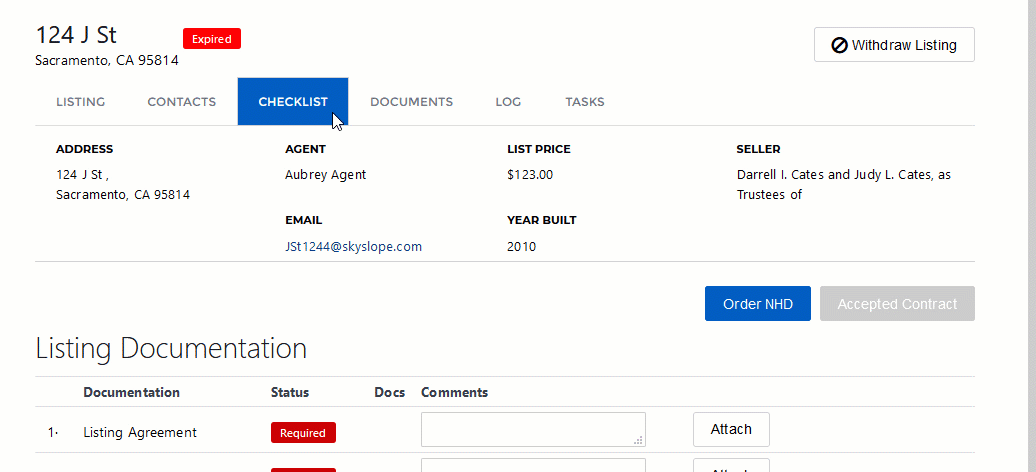 3. As seen briefly above, the Transaction tab has generated. Much like the Listing tab, the Transaction tab has some required information listed with a red asterisk (*). Some information will have carried over from the Listing file. Complete the required information, and then click on Next in the lower right corner.
4. After filling out the Transaction tab, the Contacts and Commission tabs will need to be completed. Once those tabs are completed, the Checklist tab will become available and the sales docs can be added!
And that's all it takes!
If you have any other questions about converting your Listing into a Transaction, don't hesitate to contact our 24/7 Support Team! We are are available by phone at 800.507.4117, send an email over to support@skyslope.com or start live chat with us at support.skyslope.com! Happy SkySloping!