If your office has a pair or group of agents working as a Team on SkySlope, there are a couple of different ways to accomplish a Team Account set-up.
First, let's start with an important question:
Are you setting up a team of no more than 2 people? OR Are you setting up a team of 3 or more people?
- If you're setting up a team of 2 people, the soundest solution is going to be Option 1: a Shared Account.
- If you're setting up a team of 3 or more people, it would be best to go with Option 2: Individual and Lead Accounts.
Let's break those down.
Option 1 - Shared Account (2-person team)
In this scenario, we have a two-person agent team (partners, spouses, etc) who work on the same deals together. The easiest way to allow both agents to access all of the files is to create a single account for them to share. The "agent name" on the account can be a team name, such as "Team Smith" or "John and Michael Smith". All files created for these agents will be listed under the team name.
The single account will be tied to one primary email address that both agents will use to log into the account, such as johnandmichael@email.com. They will also use the same password. A secondary email can be added to the account to allow both users to receive notifications, if they don't share an email address.
With this set-up, both agents on the team can:
Log into the account
Receive notifications
Create property files
Upload documents
Utilize Working Docs
Utilize DigiSign
Here's a visual run-down: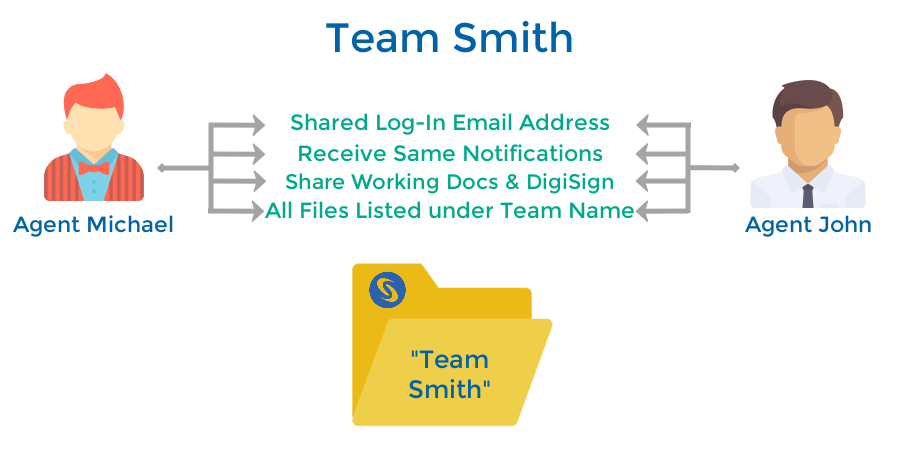 Option 2 - Individual and Lead Accounts (3+ person team)
If organizing a team with 3 or more members, having all agents use same log-in can be a bit confusing. In this scenario, with more hands in the cookie jar, it's best if there is an individual account created for each member of the team.
In most large teams, we have 2 types of participants; we have the Agents, and we have the Lead/Assistant. Since the Lead/Assistant and the Agents have different roles, they're going to need different account types. The Agents will have a regular Agent-Access Account, which allows them to create their own files, access DigiSign & Working Docs, and receive notifications. The Lead/Assistant will have the next step above an Agent-Access Account, which is considered a "Limited TC" (Transaction Coordinator) Account. The main difference between the two account types is that an agent can only create files for themselves, whereas a TC can create files on behalf of other agents in their office. This allows the Lead/Assistant to manage the agent's files and upload the documents to the Checklist on their behalf.
Let's start by breaking down the differences of the two account types:

With this set-up, the Lead/Assistant is typically responsible for creating and managing the files on the agent's behalf. Since each agent has their own account, here are the benefits:
Files listed under each agent's name for reporting purposes
Agent can still fully utilize the other aspects of their account (DigiSign, Working Docs, etc)
If need be, agents can access and manage their own property files
Lead/Assistant can access all of the team's files in one central location
Here's a visual run-down: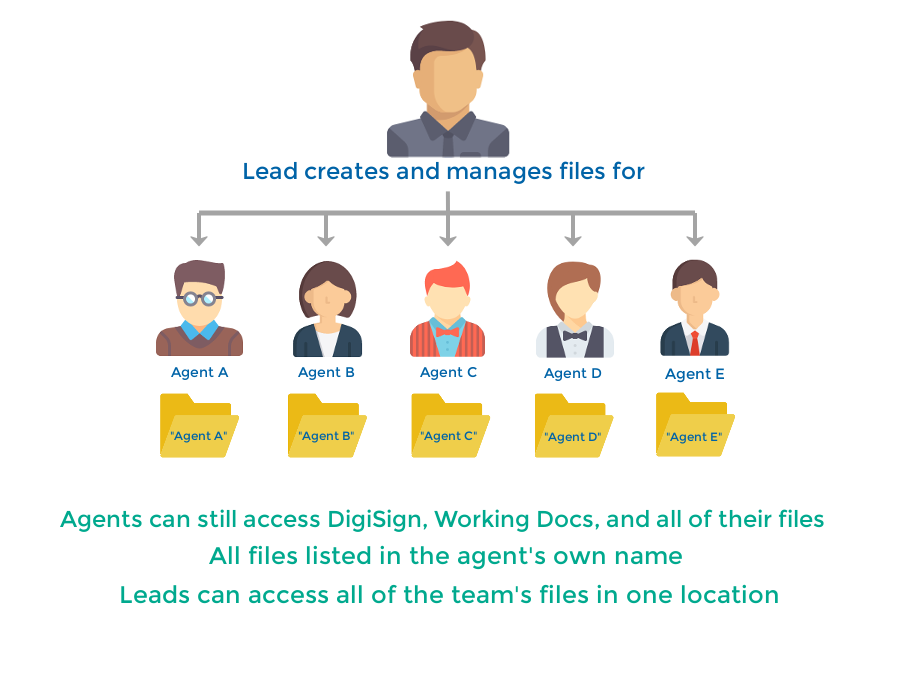 Allowing TC Access
There is one important detail that is necessary to make Option 2 possible. Each agent in SkySlope has control over whether or not to "Allow TC Access". This is a setting that is managed from within the agent's My Account section of SkySlope. (They just need to login to their account, click on their name in the upper right corner, and then click on My Account. There is a toggle-switch to allow TC Access).
When a Lead/Assistant creates a file on behalf of someone in their office, they have a drop-down list of names to select from when assigning the file to an agent. If an agents has TC Access turned off, this means that the agent's name will not appear on the drop-down list, and therefore the Lead/Assistant will not be able to create a file for that agent. On the flip-side, if the agent has TC Access turned on, then the Lead/Assistant will be able to create the file on the agent's behalf.
The Fine Print
Here are some important details to keep in mind when setting up Team Accounts in SkySlope:
For Option 2 to be possible, the agents in the team must have their "Allow TC Access" set to On.
For Option 2, when the Lead/Assistant is selecting the agent from a drop-down list, they will not only see the names of the agents in their team (unless the team has its own office). The Lead/Assistant will likely see all agents in their office/brokerage that have TC Access enabled.
For Option 2, if an agent logs into their account and creates a file on their own, the Lead/Assistant will not automatically have access to view this file. For the agent to grant them access to the file, the agent would need to add the Lead/Assistant as the Co-Agent to the file. Click here to learn how to share files.
Not all Admins have the proper level of authority to make these changes, so if you're having trouble, just reach out to the Support Team and we can look into getting this set up for you.
If you have any other questions about setting up Team Accounts in SkySlope, don't hesitate to contact our 24/7 Support Team! We are are available by phone at 800.507.4117, send an email over to support@skyslope.com or start live chat with us at support.skyslope.com! Happy SkySloping!